Once upon a time, luxury brands – and especially fashion houses – eschewed the internet as they believed it would cheapen the experience. Now, they're one of the most enthusiastic adopters of Web3 tech.
If cryptocurrency offers unique security and anti-fraud protection that traditional banks struggle to match, it makes sense luxury brands are quickly moving into the space. Gucci, TAG Heuer, Balenciaga, FARFETCH, Off-White and Equinox are amongst the first to stake their claim for consumer spending power and the digital demand for fashion and luxury brands is expected to grow to up to $50 billion in the next ten years.
What is cryptocurrency exactly? Cryptocurrency is a digital or virtual currency that is secured using cryptography, which makes it nearly impossible to counterfeit or double-spend. As a decentralised currency – i.e., not tied to a traditional bank – people can be more autonomous in making financial decisions.
It can function both as a currency that people can use to send or receive payments, or a virtual accounting system, all you need is a cryptocurrency wallet. There are various cryptocurrencies available in the market, but the most popular ones used by consumers are Bitcoin, Ethereum and XRP. Let's take a look at some of the key stats behind crypto and why it matters for consumers:
With so much potential and so much purchase power, it makes perfect sense that the luxury industry are the first on the scene. The global luxury market is expected to reach $1.5 trillion by 2025 and millennials account for roughly 50% of the total market. The diamond industry may be on the decline – at least according to the traditional media – but millennials have money, and they want to spend it on the right products.
In the blog, we'll be examining the online audience of luxury brands and cryptocurrency users, plus we'll look at some sterling case studies of brands getting it oh-so-right. Let's begin.


Who has the spending power in the world of cryptocurrency?
We know there's disposable income on the table, so who exactly is in control of it? Using the luxury brands already making waves in the cryptocurrency space as our basis, we ran two types of reports in Audiense: an interconnectivity report – which tells us who knows who – and an affinity report – who is following who in terms of the luxury brands. After slicing and dicing that data, we created a final report which shows the intersection between luxury brands and crypto influencers, which is what we'll be discussing in this piece. It gives us a sample size of around 250,000 people globally.
Looking broadly at our audience, we can see that it's made up largely of men (about 73% of the total audience) aged 18-24 years old. While the US comes out as a top country, making up about 26% of the audience, we can also see engaged audiences in the UK, India, Nigeria and Canada. As reports into the crypto audience by Deloitte and Forrester suggest, this audience is primarily millennial and Gen Z. Given that these two generations are accounting for 85% of global luxury sales growth, it's clear that there's some urgency for luxury brands to adopt crypto and NFTs as a central part of their business strategy.
Given that many of these people hold approximately 25% of their net worth in cryptocurrencies, it's also worth understanding income levels. If we look at socioeconomics for this audience, our data shows that the income tends to be around $75,000 and above. It's interesting to note here that while we'll be talking about luxury brands, we're also seeing more mainstream brands such as KFC, Burger King and Kodak leveraging cryptocurrency in their strategy, providing baby steps into crypto for younger investors who are in the early stages of their careers and income levels.
If you want to capture the low-hanging cryptocurrency fruit, you need to understand what the respective audience segments look like. After all, your audience is not a monolith. Let's break it down into four bite size chunks to understand the real potential of this financially savvy audience.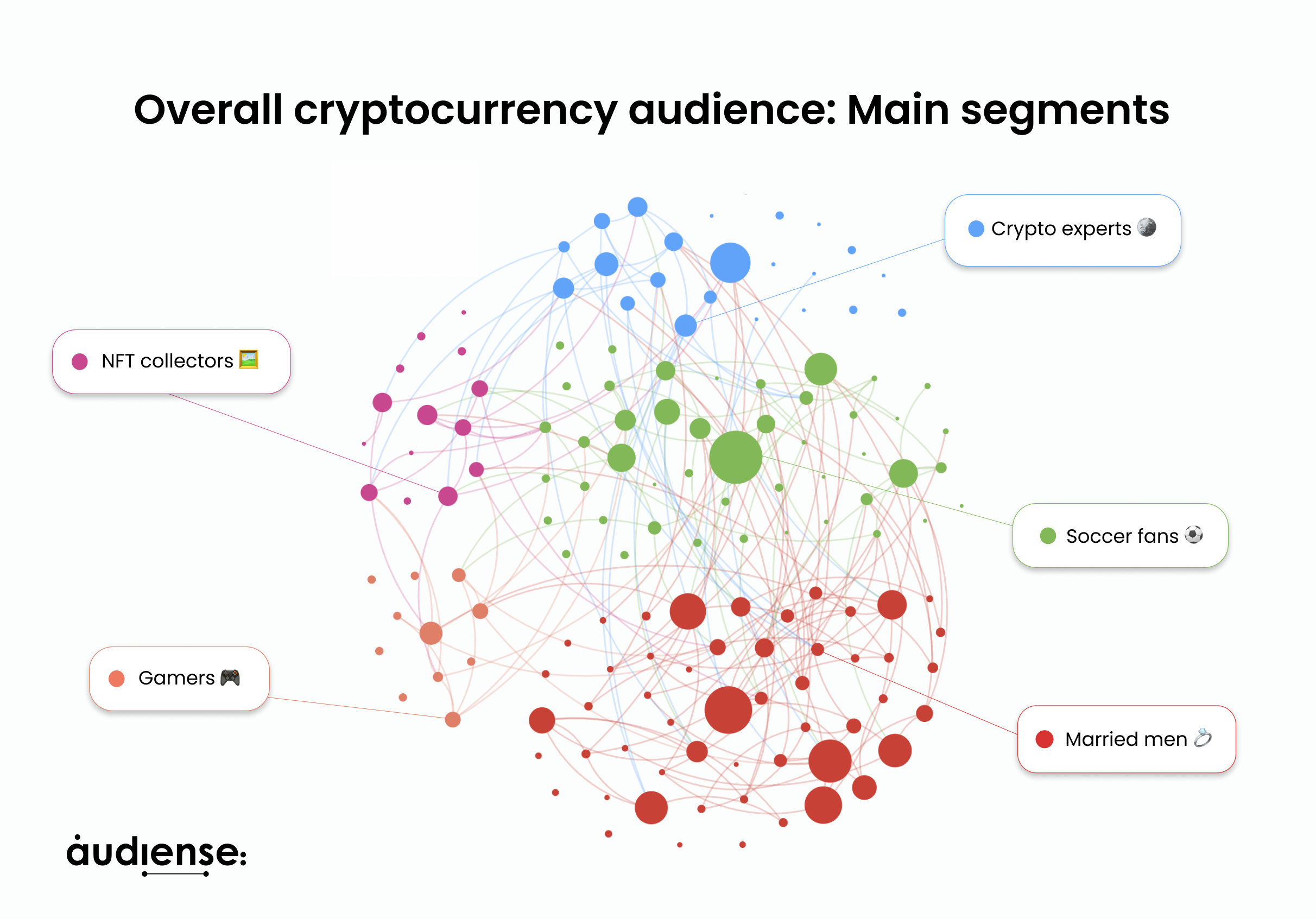 Married men 💍
As much as we wanted to give this segment a fun name, it very much is what it says on the tin. Around 25% of the crypto audience is made up of married men, many of whom self-identify as both a 'husband' and a 'professional'. Professional husbands, perhaps?
This is a reasonably global audience segment, though it does over index toward US-based consumers (around 40%). They're also high earners, compared to the other audience segments and the full global audience sample, bringing home between $75,000 and $250,000 annually.
Our IBM insights show us that this segment's personality is perfectly suited to cryptocurrency investors, being a blend of analytical but also persistent, adventurous and eager to explore new ideas… making them a perfect fit for the highs and lows of the crypto market in these early stages.
You're more likely to find them browsing Pinterest, Medium and LinkedIn, and they're likely to consume news from places like Mashable, Fast Company, Inc and The New Yorker.
Most importantly, who are they spending with? Balmain, TAG Heuer, Balenciaga and Rolex all appear high on the list of their brand affinities, meaning that the brands already in play are right on the money.


Soccer fans ⚽️
Our soccer fans audience are very global indeed, with this segment over indexing in Nigeria, India and South Africa (around 30% of the total audience); but we can see the US and the UK flowing through as key locations. This reflects that idea that crypto is fuelling new business opportunities for brands such as PayPal, Starbucks and Microsoft in previously uncharted regions.
As you might have guessed, this audience is big on sport. They love football – or soccer, depending on where you're reading this – and this shows in their high consumption levels of media such as Sky Sports and SuperSport.
We also see celebrities and brands such as Cristiano Ronaldo, Manchester United, Real Madrid and UEFA Champions League apparently prominently in their influencer list; this suggests that they're not just watching sports, they're actively engaging with personalities and clubs in their free time.
Much like the US-based married men, travel and finance appear highly in their interests, and their personalities lean more toward bold purchase decisions and risk taking when it comes to their personal finance. Interestingly, they also tend to be more respectful and harmonious.
When it comes to reaching them, WhatsApp and Telegram are the most popular social channels, but they're also highly influenced by social media content and digital advertising; while they may be spending leisure time on dark social connecting with friends and family, you can target them with ads in more public networks such as Facebook (which of course, owns Instagram) and Twitter.


Crypto experts 🪙
This blog is all about crypto, so it's no surprise to see a significant crypto expert chunk appearing in our segments! This segment is truly global, over indexing for members in Turkey, Japan and China. In fact, the US doesn't even appear in the top five countries for this segment!
This audience is defined by their bio keywords, with top keywords including crypto, bitcoin, nft, btc, investor, eth, blockchain, trader. This tells us they're a passionate segment who want to connect and discuss cryptocurrency with like-minded people.
Compared to the general population, this segment is 1.5 times more likely to use Telegram, 1.2 times more likely to use Reddit, and 1.1 times more likely to use Discord. They are congregating in dedicated forums and spaces where they can discuss cryptocurrency and stay up-to-date. A quick look at the Content tab shows us that they're engaging with a lot of NFT and crypto content across social media, including from luxury brands!
This segment is defined by leaders, not followers. They're more likely to be influenced by prominent personalities in the crypto space such as the CEO of Binance, the co-founder of Gemini and thought leaders in the space. They also follow crypto trends accounts such as Whale Alert, Kucoin and CoinGecko, demonstrating their commitment to real-time, relevant news sources.


NFT collectors 🖼
A perfect cross-section of interests, our final segment consists of NFT collectors, traders, and general appreciators. Largely based in Canada, Australia and Singapore, a staggering 18% of this audience feature the word 'NFT' in their social media bios.
Sport does appear among their interests, but we can also see they're huge film and TV buffs – perhaps appreciators of visual arts in addition to crypto and virtual currencies? Netflix, National Geographic, TV chef Arnold Poernomo and Paris Hilton all appear among their influential media.
Looking at influencers and brands, this segment cannot get enough of NFT thought leaders, marketplaces and creators. Top accounts include Bored Ape Yacht Club, an exclusive NFT club which requires purchase to access; plus OpenSea, Pranksy, Farokh and Coinbase NFT.
Looking at those luxury brands, some of the more traditional brands such as Rolex and TAG Heuer fall toward the bottom, whereas Off-White, Prada and Tiffany & Co rank highly.


Which brands are dominating the cryptocurrency space?
Before we get stuck into brand examples, we wanted to pause and reflect on the fact that cryptocurrencies themselves are a masterclass in user-generated content and word-of-mouth marketing. Given the decentralised nature – that's the whole point – cryptocurrencies are nurtured by project founders, user communities, investors, miners and more.
They're spending time in forums, chatrooms and subreddits actively engaging their target audiences. As we've seen from the segments, their virtual currencies are moulded by a passionate community of investors and collectors, but also thought leaders, founders, tech pioneers and financial superstars. Food for thought as you wade into the waters of brands doing a pretty great job.


Gucci
As one of the very first brands to stake a claim in the metaverse, it's not all that surprising that Gucci now accept cryptocurrency payments across their North American stories. What is interesting is that Gucci have gone beyond the two most popular currencies and also accept Dogecoin, Shiba Inu, and other mother meta forms of virtual currency that appeal strongly to their Gen Z fan base.
So why is a 100-year-old Italian fashion house accepting meme-inspired payments? Why is any fashion brand, for that matter? Well, because of cryptos roots in the blockchain, fashion brands are able to accurately digitise, track and trace the entire lifecycle of an item, effectively beating out the risk of fraud which according to some sources, leads to billions of profit lost every year. It can also help brands showcase sustainability – a pressing issue for many young consumers in an age of fast fashion – by creating a clear report of their supply chains and providing open access to sustainability related data.
Alongside supporting cryptocurrency payments, Gucci area taking bold steps into the metaverse using the Ethereum blockchain. 10KTF Gucci Grail, a collaboration between Gucci's creative director Alessandra Michele and fiction 'digital craftsman' Wagmi-San. Gucci perfectly combines their Gen Z audiences' love of art, anime and crypto with a unique and playful NFT collection. Gucci also boasts a dedicated Gucci Vault Discord server, which provides special access to pre-order Gucci collections before they're released to the general public, the Soho House of Web 3.0 according to Vogue.
Tiffany & Co
An icon since 1837, New York brand Tiffany & Co have been taking their first steps into the crypto-sphere despite recent uncertainty. In August 2022 they launched NFTiff, a collection of 250 custom-made NFTs that were exclusively offered to holders of CryptoPunks.
By purchasing an NFTiff, collectors were able to redeem a custom-designed pendant and an NFT digital artwork that represents their final design. Crafted by Tiffany & Co artisans, the brand are clearly trying to bring the feeling of walking through the iconic doors of Tiffany & Co to select that perfect piece of jewellery in the digital age, a challenge which many luxury brands face.
This commitment to quality and exclusivity is key for luxury brands looking to break into the crypto space. NFTiff cleverly retained the key elements of the brand, chiefly the iconic turquoise jewellery boxes, across their digital activity to promote the NFTs. They emphasised the bespoke, artisan nature of the physical product alongside the limited edition collectible NFT. And they brought it all together in an enviable campaign which partnered with a dedicated crypto club, promoted widely across their social channels, to incite FOMO among NFT and crypto enthusiasts, and excite die-hard Tiffany & Co fans.
Sotheby's
Despite the discourse around the value of NFTs and digital properties, it hasn't taken long for British-founded fine arts company Sotheby's to get involved. An almost 300-year-old brand, Sotheby's offers what they describe as 'a curated array of NFT's from Digital Art, Luxury, Collectibles, Sports and Pop Culture.'
In addition to a dedicated sales team of crypto and NFT specialists across New York, London, Paris and Hong Kong, Sotheby's have been busy shining a spotlight on artists. In 2021, Sotheby's broke several NFT records. The first, the sale of the most expensive Bored Ape Yacht Club ever, which went for a cool $3.4 million. The second, the most expensive Cryptopunk ever sold, which racked up $11.7 million.
NFTs aren't just a flash in the pan for Sotheby's. They regularly host Natively Digital, a collection of unique artwork which showcases early NFTs built on pre-Ethereum blockchains alongside newer more complex NFTs. Sotheby's are focused on making NFTs serious business, by championing emerging artists and what they call the 'old masters' of NFTs.
Sebastian Fahey, CEO of Sotheby's Europe, said: "NFTs represent an exciting new evolution in the history of art, in which purely digital art now has a technology, a tool, that can be used to buy and sell in a way that is secure and trackable. What's more, there is such a strong community that supports digital art and NFTs, one that has created a whole new style in their art that I think is really energising to the art world. We have only really just begun to explore the ways in which NFTs can revolutionise collectibles and pop culture."
How can luxury brands tap into future opportunities?
Move with the times or you die. Sounds drastic, but in a modern world of emerging tech and continuous innovation, it's a safe bet that brands who fail to pay attention to the macro-climate will quickly become the dinosaurs of the consumer age.
The cryptocurrency and NFT market are in a state of flux, as brands and consumers alike try to understand the next steps and the sheer potential. Even if you're not a luxury brand, the opportunities are boundless. Here are some of our key takeaways for brands looking to bridge the gap between crypto and consumers.
Listen to the conversation – It can be tempting to hop on the next bandwagon, but the best way to plan your next steps is to pay attention to what your audience actually wants. The reality is, they might not be there yet when it comes to cryptocurrency, but you should be planning for the future.
Tap into the herd mentality bias – You've listened and now you can play. The crypto audience are hugely influenced by FOMO and this desire to be a part of the next big thing is what is driving growth in the sector. Identify the key influencers and media outlets that can help you reach them to tap into the full potential of FOMO.
Stoke the fires with great content – You've announced that you're accepting cryptocurrency, or you've launched an NFT collection, now you need to make some noise. Quality content and strategic marketing campaign, combining the right channels with the right message, will amplify your efforts and boost your ROI.
Be prepared to educate – You may have started reading this article with no idea of how to use cryptocurrency or how it applies to your brand. That means your customers probably feel the same way, even if they have some working knowledge of crypto or NFTs. Make sure your proposition is clear. If you have to educate, make sure it's entertaining and maybe even shareable.
If you want to uncover opportunities to work with influencers and reach new audiences, the data is out there. It's just a matter of taking a deep dive. With tools like Audiense, conducting in-depth audience analysis and discovering actionable takeaways is possible for brands that want to approach their marketing strategy with confidence.
P.S. If you liked this, you should check out our NFTs spotlight.
You have successfully been subscribed!
Get the best content from Converge direct to your inbox every month.