High profile events like Wimbledon, UEFA Champions League, and, of course, the Super Bowl, have dominated the world of event sponsorship and sports. Major brands like Rolex, Heineken, and Pepsi spend millions upon millions of dollars for prime real estate during these massive global events.
But over the last decade, video game streaming has not-so-silently overtaken major sports leagues like the NHL, MLB, and NBA in terms of viewership and overall pop culture relevance—it even has the NFL in its crosshairs.
This level of skyrocketing popularity means there's an entirely new, tech-savvy market for companies to reach through sponsorship deals. This year alone, sponsorship deals are slated to make up a massive percentage of the global esports revenue stream. Just take a look for yourself.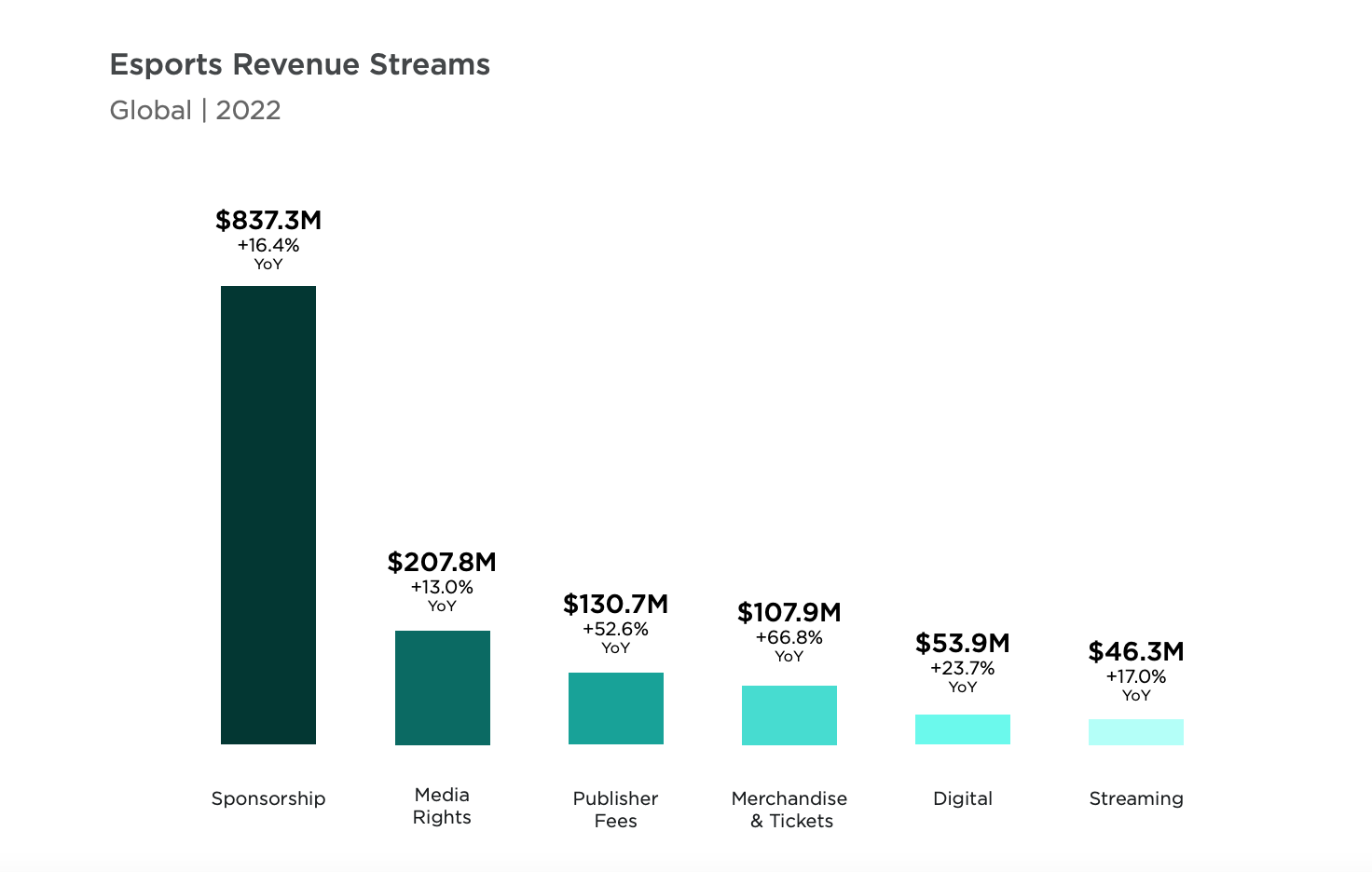 Sure, the rising popularity is a big reason for this increase in investment. But companies also realize that marketing through esports allows them to target more specific audience segments at a higher number of touch points than regular sporting events.
The rise of esports
Video games have influenced mainstream society since the release of Pong in the 1970s, with PC, console, and mobile games each taking a turn as the industry leader. The spirit of esports has been around nearly as long, with the game developer Atari holding a gaming championship in 1980.
Even with this long history of popularity, the last decade has seen a marked increase across two key aspects of the gaming world:
A big part of this growth is the rise of online gaming. The industry has grown from an individualistic, solo endeavor to a global ecosystem where enthusiasts can connect with one another across the globe.
Live-streaming platforms like Twitch, Steam, and Facebook Gaming are also spurring the rapid growth of esports. With these platforms, gaming has become a "spectator sport" where fans can:
Directly tune in to individuals, pros, and teams as they practice and compete.
Watch and listen as famous influencers livestream casual game-play.
Join in with millions of fans for global esports tournaments.
Gaming used to be confined to the local level, with single- and multi-player engagement happening through one system. Like physical sports, gamers were restricted to engaging with people close to them. Online play has expanded the industry to create a global ecosystem.


Esports exposure ecosystem
While there's an interesting debate about how esports leagues will be able to monetize long-term (Twitch is the polar opposite of the media rights deals of traditional sports broadcasting), the streaming platform has undoubtedly allowed the esports industry to capture a massive global audience.
What esports lacks in event profitability, it makes up for with drastic improvements in ecosystem exposure. Where traditional sporting events are mostly confined to the broadcast model, streaming platforms allow fans to follow esports influencers, professionals, teams, and events.
Sponsorships can be and increasingly are, placed in these different esports domains, offering brands more exposure than traditional sports.
The graphic below from McKinsey's Esports as a Sponsorship Asset report outlines the edge that esports has over traditional sports in terms of fan engagement.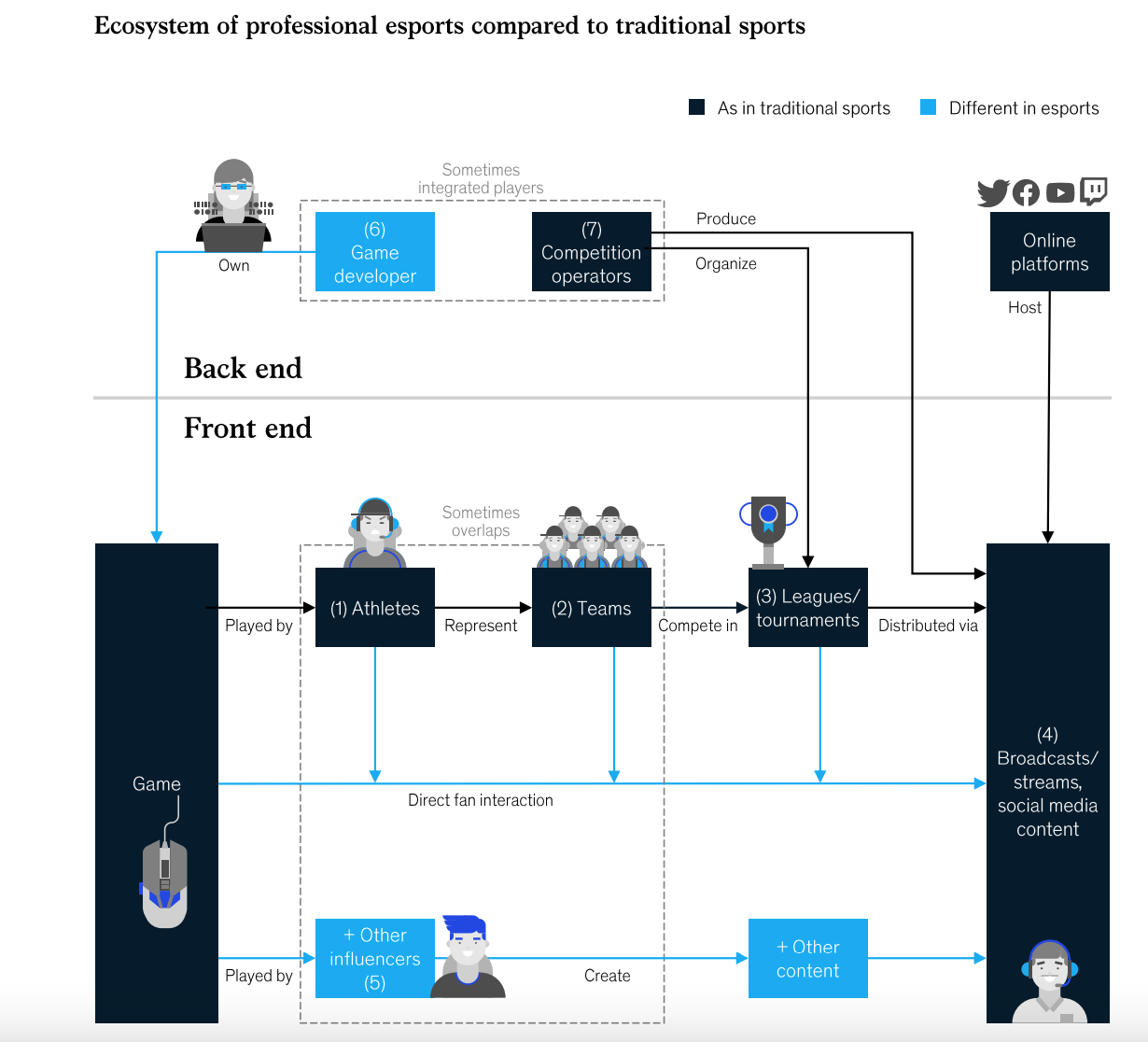 The "Other Influencers" component is a particularly powerful marketing channel for brands to leverage. From famous YouTubers to NFL players to online personalities, there is a massive market for simply watching people play video games.
For example, the most viewed streamer over the past 30 days is professional Overwatch player Felix Lengyel, known as xQc. Here are some of the stats over the last month according to Twitch Tracker:
324 hours streamed
74,031 average viewers
24,032,812 hours watched
This direct interaction that fans can have with esports athletes, teams, tournaments, and influencers is changing the dynamic of sports marketing, providing a broader surface for major brands to gain exposure with niche audiences.
Major brands are investing in esports sponsorships
Though the esports boom is relatively new, major brands are already leveraging the expanding marketing ecosystem that esports provides. As the industry continues to grow, research firms have uncovered a demographic feature that explains the rise in brand sponsorships: Esports enthusiasts are a high-value consumer segment.
Survey findings published in Newzoo's Global Esports & Live Streaming Market Report 2022 show that both esports enthusiasts and occasional viewers are more likely than the rest of the online population to have full-time jobs and higher household income.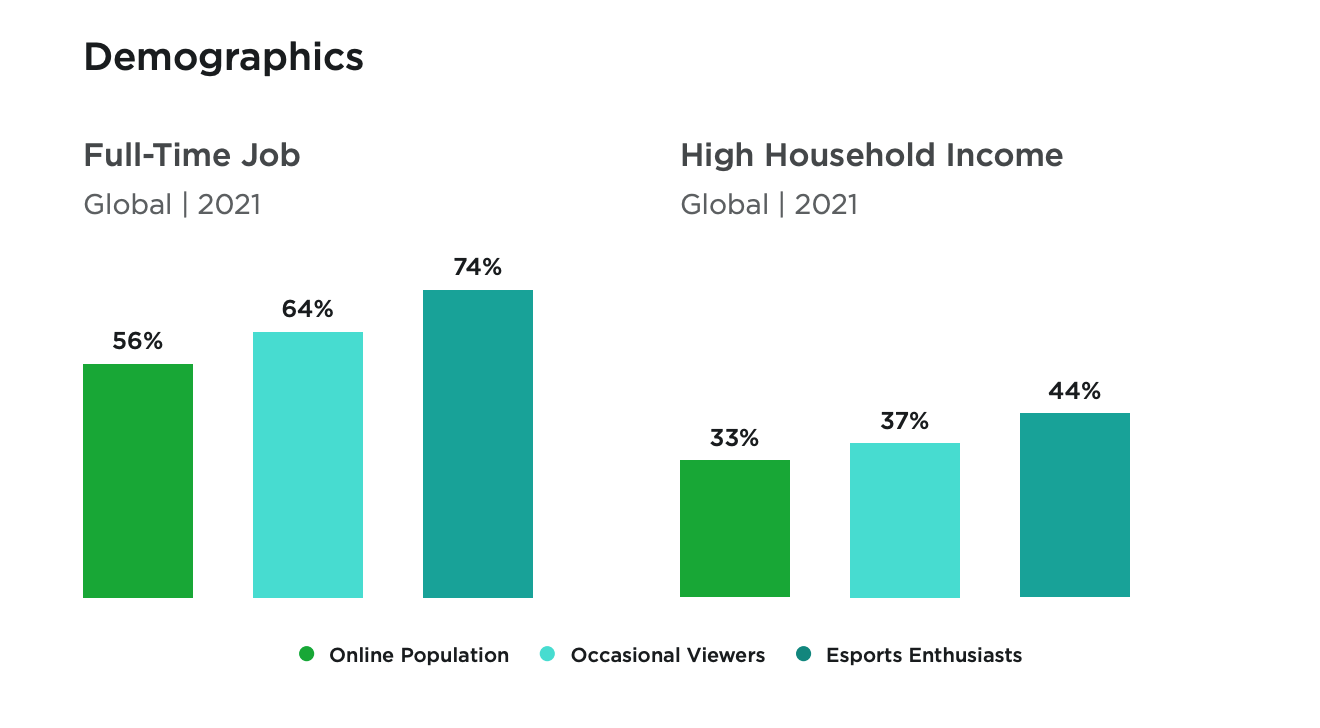 This explains the sponsorship presence of major brands across North America, Europe, Asia, and other emerging esports markets. According to the same Newzoo report, the following companies sponsor esports tournaments and events in multiple markets:
Adidas
Red Bull
Mastercard
BMW
Logitech G
KitKat
These major sponsorship deals make up a massive percentage of esports revenues and are currently the foundation of esports event revenue.
Despite the tendency for brands to go global in their attempts at brand sponsorship, it's increasingly apparent that a more targeted approach is necessary for brands looking to maximize ROI.
You don't necessarily need the deep pockets of Mastercard or BMW to win at esports event sponsorship. What you need are insights into the micro-segments within the broader esports audience.


Audience analysis of popular esports events
Esports is not a monolithic market segment, and there are different audience characteristics between different games and participant types.
Companies debating whether to sponsor an esports event need to know that they are reaching the viewers most likely to resonate with their brand. It's not enough to know that the broader esports audience has more disposable income on average—companies need confirmation that these people are engaging with their brand. This means measuring reach, cost, and quality (RCQ).
It also means diving deep into the online behavior of enthusiasts who attend major esports events to understand the culture behind each audience segment.
To exhibit just how important this process is, we'll look at 3 major esports tournaments from 2021, the propensities and affinities of their audiences, and how brands can take advantage of the esports ecosystem to effectively reach these audiences.
League of Legends (LoL), the team-based, online battle arena game for PC created by Riot Games, is over 13 years old and represents one of the most popular esports games on the market.
According to esports insider, the 2021 World Championship was the 2nd most successful esports event of 2021. Here are a few of the most impressive metrics from the month-long event:
A peak global viewership of 4.01 million
174.28 million total hours watched
These astronomical viewership numbers are a major reason why League of Legends has gained major sponsors like Mastercard, Redbull, Verizon, and Grubhub across North America, as well as Kia, Logitech G, and KitKat in Europe.
But just how closely do these brands, many of whom sponsor numerous esports games and events, align with the interests of the specific LoL audience? Looking at the top purchase influence factors for this group with Audiense Insights helps paint a clearer picture.
The general LoL audience is less likely than the general public to be influenced by social media marketing, online ads, or referrals from family and friends.
On the other hand, they are more likely to take brand name into consideration and are heavily influenced by product utility.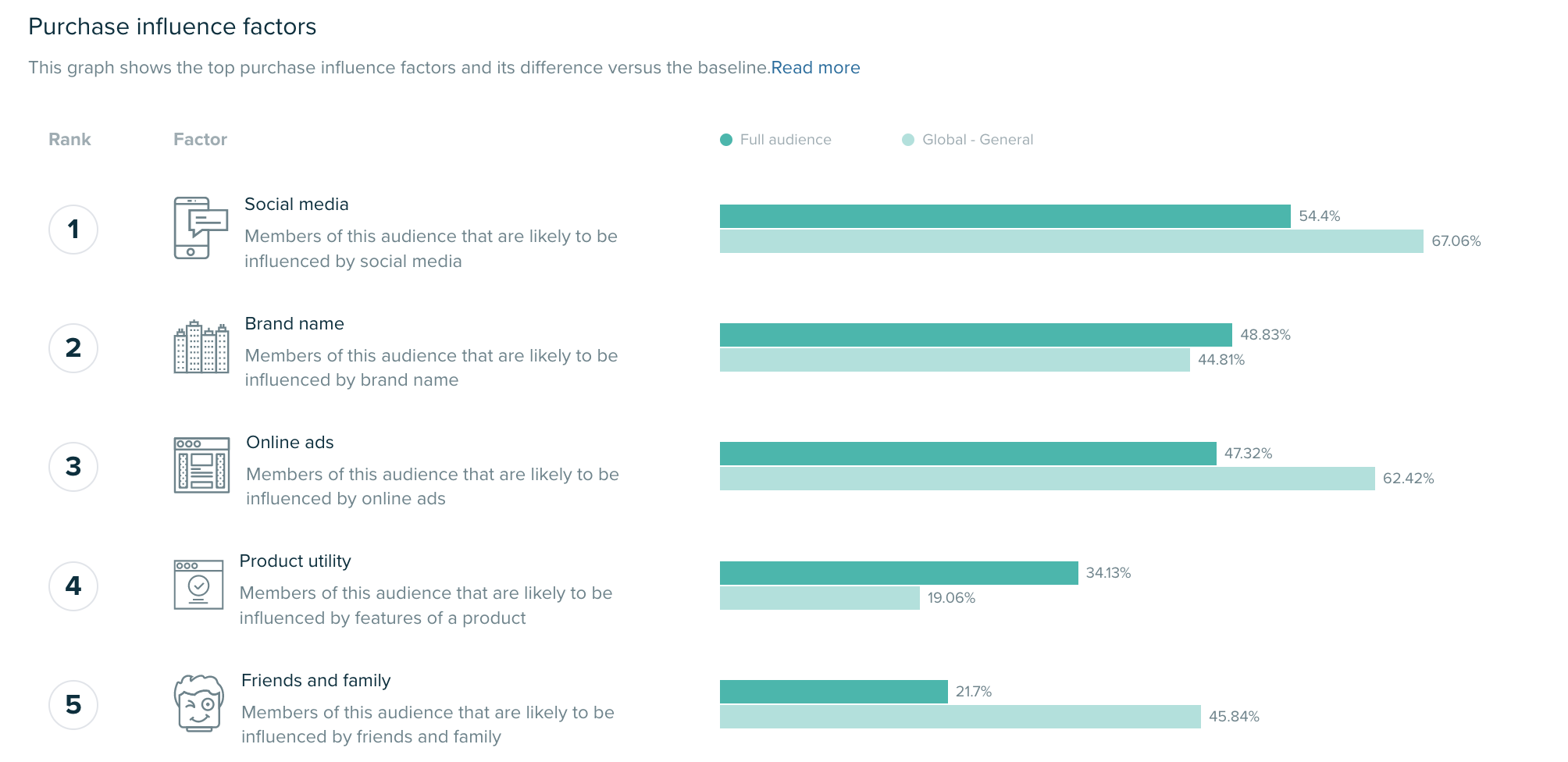 Based on these insights, the decision of globally-renowned brands to sponsor LoL events is sound. This is especially true for Grubhub, Kia, and Logitech G, where product utility plays more into marketing.
But for an even more targeted, RCQ-verified approach to reaching the LoL esports audience, the use of influencers is key.
Brand names aside, traditional marketing efforts don't work particularly well on the esports community, LoL enthusiasts included. To take advantage of the expanded ecosystem that online gaming provides, brands can take their sponsorship efforts directly to Soren Bjergsen or Eefje Depoortere.
Soren is a LoL pro who plays for Team Liquid, Eefje is a freelance esports host and influencer. They have an estimated social reach of 1,300,000 and 800,000, respectively. Both influencers have deeper penetration with the esports markets and authenticity in the space brands can leverage.
DOTA 2 tournaments
DOTA 2 is another multiplayer online battle arena game that garners a massive global audience. Created and first published by Valve, DOTA 2 is responsible for one of the most popular esports tournaments in PC gaming: The International.
The 10th edition of The International, the TI10, held last year, was the most popular event in DOTA history. According to Esports Insider, it had:
A peak global viewership of 4.74 million
107 million total hours watched, good for 4th highest all-time
Like the LoL World Championships, DOTA 2's yearly competition also brings in major brands interested in capitalizing on a massive esports audience. Through current and previous iterations of The International, DOTA has brought in large brands like Red Bull, Monster Energy Drink, Intel, and Acer.
Audiense's Personality Tab below shows that the broader DOTA 2 audience is "driven by a desire for efficiency."They also value helping others and taking pleasure in life, using these values to guide their actions.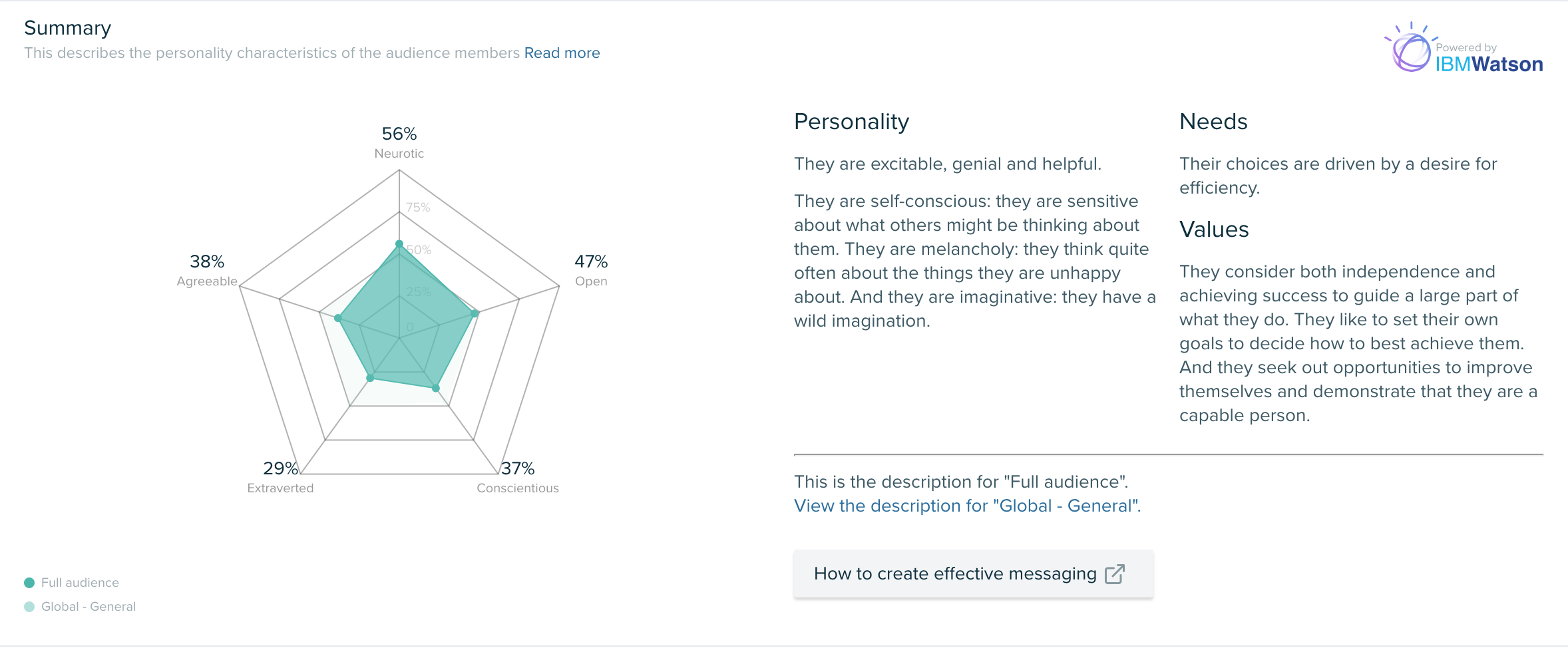 The need for efficiency within this audience aligns well with the energy drink and PC companies that currently sponsor DOTA events. As for the values of helping others and enjoying life, there is certainly room for further brand sponsorship with companies that share the same vision. This is one of the reasons that employers like the US Army and tech companies have started sponsoring and recruiting through the esports market.


Fortnite tournaments
Fortnite, Epic Games' take on battle royale gaming, is something of a different beast compared to League of Legends and DOTA 2. It's featured prominently in mainstream and pop culture, applies sponsorships directly into gameplay through branded character skins, and does not draw the same level of viewership in terms of major esports events.
But the last point should in no way discourage brands from considering whether to sponsor a Fortnite event despite Epic Games' history of opting for non–sponsorship.
For one, they put on a series of Battle Royale events across North America, Europe, and Asia that routinely attract large audiences and have also featured prominent professional NFL players in charity events. While their esports tournaments don't garner as much attention as LoL and DOTA 2, Fortnite has the advantage of drawing an esports audience segment with an affinity for exclusive brands, pop culture, and social media trends.
Looking at both the Purchase Influence Factor and Consumer Behavior of the Fortnite audience, you can see why brands like Balenciaga, Moncler, and even Marvel Studios have gone to such extents to have their products featured in the game.
For one, they are incredibly susceptible to major brands when it comes to purchases. By placing their products directly within the game, major fashion brands masterfully influence esports players into trying their products down the road. Especially considering they are much more likely than the average consumer to engage in "spur-of-the-moment" spending.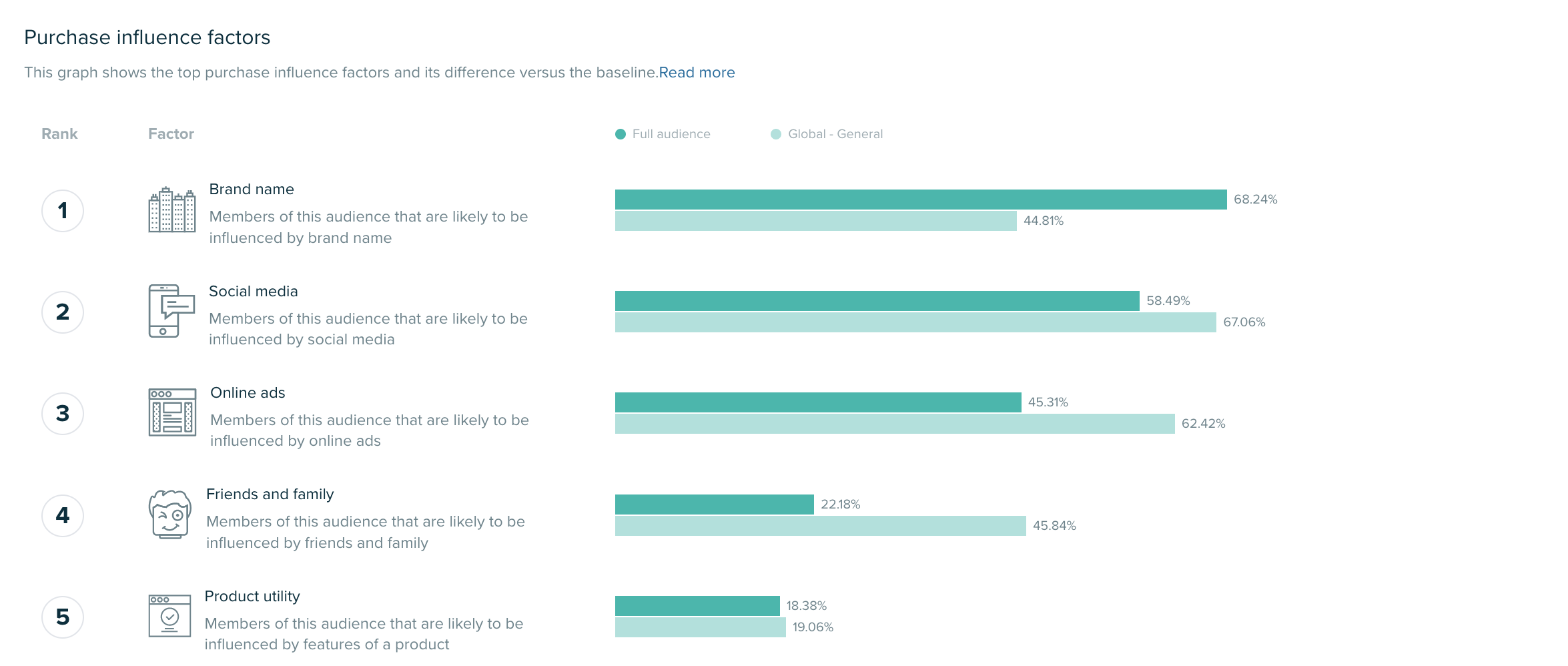 Another way fashion and other luxury brands can use Fortnite to reach their audience is by sponsoring prominent Fortnite streamers and athletes. Here are two examples of prominent influencers that brands can leverage to reach Fortnite enthusiasts more authentically:
@Ninja is a prominent video game streamer with nearly 7 million followers on Twitter alone and is one of the top individuals followed by Fortnite fans
@Bugha is a 3X Fortnite Champion Series winner and member of the Sentinels team who has over 12-million followers across Instagram, TikTok, and Twitter.
Some brands are already catching on to the outsized impact of sponsoring influencers like Ninja and Bugha. A few examples featuring the latter are included below.


Esports sponsorships in action: Bugha
In the long run, companies that don't take esports seriously are going to lose out to companies that leverage the immersive ecosystem, including influencer-athletes like Bugha, to gain exposure with tech-savvy consumers.
Telecom brand Xfinity and the Gen-Z targeting FinTech platform Step are two great examples of brands hopping on the esports bandwagon.


1. Xfinity sponsors Fortnite City Series event
Esports is turning out to be the perfect avenue for Xfinity, a subsidiary of the $172 billion Comcast empire, to promote their high-speed internet and digital streaming services. In 2021 they announced Team Xfinity—a lineup of esports pros and prominent streamers, including Bugha.
So, in addition to sponsoring events like the Fortnite City Series, the Comcast brand also has access to Bugha's 1.9-million Twitter audience, giving them the opportunity to reach thousands of new users with every tweet from the highly-regarded influencer.
2. Step partners with Bugha to reach their Gen-Z audience
Step, the finance startup offering financial services to teens, is another company growing its brand through esports sponsorships. In this case, by directly partnering with Bugha in late 2021.
According to Businesswire, over 40 million teenagers in the US are active gamers, and 34% of teens in the country are "unbanked." Esports sponsorships are a match made in heaven for a company like Step.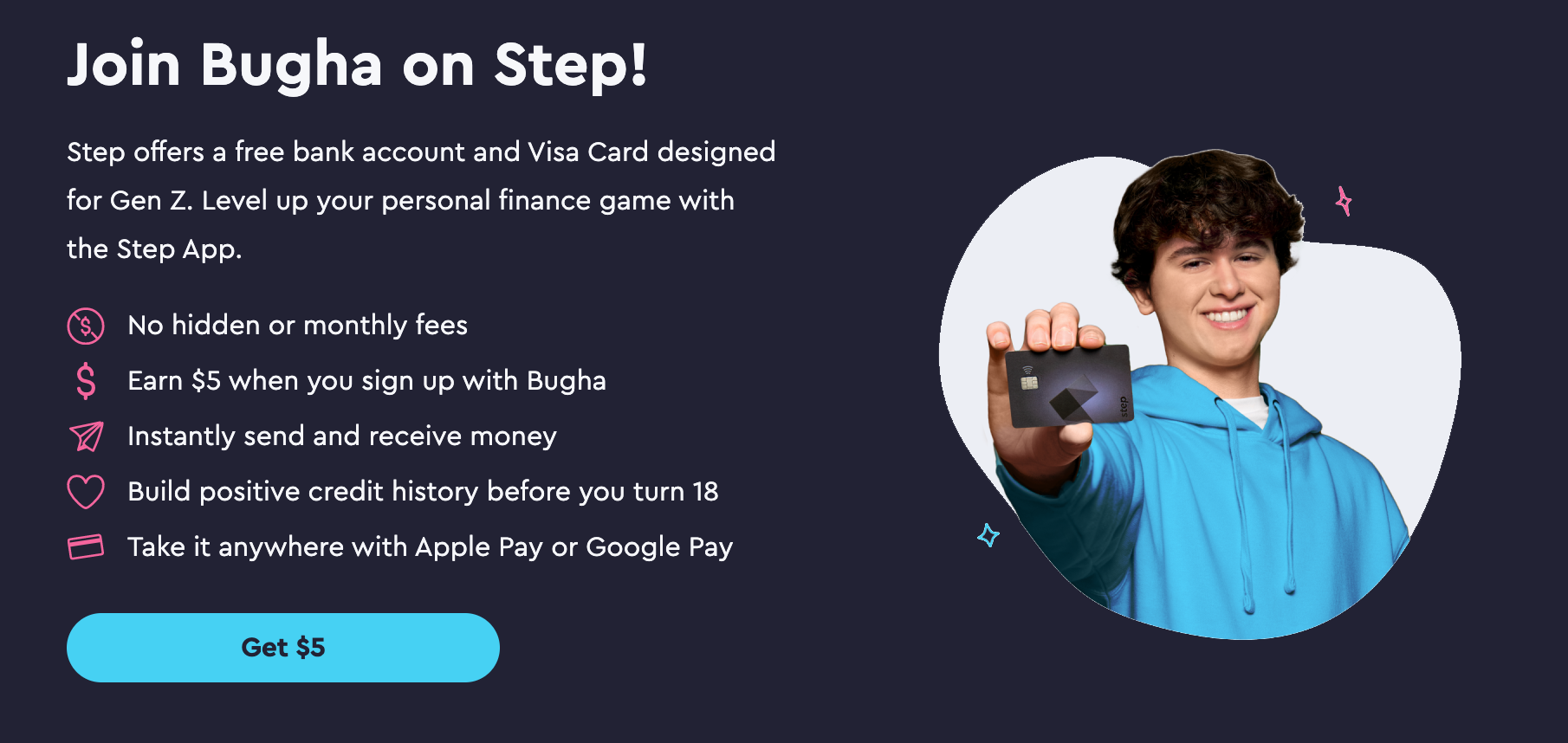 Bugha is incredibly popular among younger gamers, so it makes perfect sense for him to be the link between this demographic and a financial company like Step. The Step-Bugha partnership involves esports competitions, custom Fortnite maps, and plenty of bonuses for teenage esports enthusiasts who join Step through the promotion.
This type of esports sponsorship is the perfect example of how brands can gain a foothold with Gen-Z as they become a larger force in the market.


Key takeaways
While the esports industry overall is still in a relatively early stage, more and more companies are turning to their massive live events as a way to reach one of the more valuable online markets. However, it's key that companies don't just spend money for the sake of it.
Here are a few things to keep in mind as you build your esports tournament strategy:
Align your brand with esports tournaments that have an existing audience that aligns with your brand. Keep in mind that the people who passionately play and watch Fortnite are different from the people who passionately play and watch FIFA 22/23/24/etc…
Use data surrounding the most influential esports teams to uncover opportunities to collaborate with individual esports players. And filter for influencers with a reach that is within your budget!
Get creative with your sponsorships but root that creativity in data. It's not enough to simply partner with someone because they have a ton of followers. It's key to partner with the teams, players and tournaments that have the right audience for your brand.
The world of esports is a fascinating trend showing no signs of slowing down.
Remember that finding the right esports audience segment is crucial to success in the esports ecosystem. Put consumer segmentation and cultural relevance at the heart of your brand sponsorship strategy and let us know if you have any questions.
You have successfully been subscribed!
Get the best content from Converge direct to your inbox every month.