Whether you're a dedicated fashionista or a strict follower of goblincore, as the Devil Wear Prada taught us, fashion is everywhere. The fashion industry has been busy over the last couple of months, with the A/W 2022 lines being showcased in New York, London, Milan and Paris.
Catwalk shows remain a core part of a designer's marketing and publicity strategy. But the front row of your favourite designers has undergone a transformation over the last few years, with social media stars and international supermodels slowly stealing seats from celebrities.
Fashion, as ever, has been leading the way on how to do influencer marketing right. According to a report by Fashion and Beauty Monitor, only 27% of US consumers and 23% of UK consumers make purchasing decisions based on brand ads. This has led to fashion marketers allocating up to 75% of their budget to influencers.
Does that figure make you as nervous as the thought of strutting down the catwalk in 6-inch heels? Well, it's paying off. According to Vogue Business, 1,000 impressions is worth approximately $15 to a luxury brand in earned media value, which means during the S/S 2022 shows last year…
So, aside from Y2K style tips and the resurgence of tweed, what can you learn from A/W 2022 Fashion Week? Interestingly, influencers alone are no longer changing the game; brands that are slaying need to find that perfect balance of aspirational and influential.
In the blog, we'll take a look beyond the catwalk to understand how fashion brands are using influencers to steal the show and most importantly, how audience intelligence can help you find the perfect partners through influencer marketing.
P.S. Don't forget to bookmark this for later and share it around with your marketing friends!


Who is driving the buzz behind Fashion Week 2022?
Before we explore luxury brands strutting their stuff during Fashion Week, let's take a moment to delve into the make-up of the audiences leading the conversation.
Looking at our Fashion Week A/W 2022 report, conversation is largely driven by the 18-34 age bracket, with a surprising amount of young adults engaging with the conversation online. The gender split is pretty much 50/50, which demonstrates that fashion continues to be a way for people to express themselves. This provides a lot of potential for campaign planning.
Interestingly, while around 25% of the conversation comes from the US. Indonesia, Thailand, the UK and Brazil also rank highly in terms of top locations. Digging deeper into geographic data, London, Jakarta and New York City were the top three cities for this audience.
While there are some key locations for chatter around Fashion Week, a glance at our heat map shows that Fashion Week is a global conversation! Luxury brands could consider running experiential out-of-home or events in major cities but achieve global reach by wrapping in an online element.
While it's useful to have this overview, your audience is not a monolith. We were able to break up this audience into ten distinct segments, but as you'll see, there's a decent amount of overlap in terms of audience interests. Let's look at three of these segments more closely.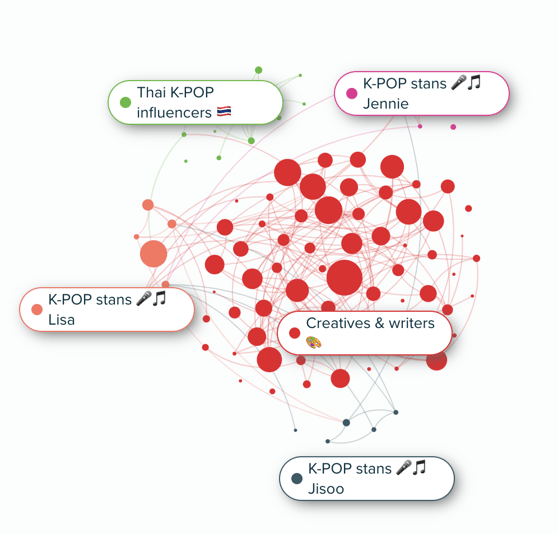 Creatives & writers 🎨
First up, we have our more creative audience, aged 18-34 and largely based in the US! Top cities for this segment feature London, New York, LA and Paris
Looking at influencers, you can clearly see a pop culture slant, with Tina Snow, Zendaya, Montero, Cardi B, Rhianna and even Elon Musk ranking as most influential; all those hot influencers, mostly in the music space, that are likely to create a stir online
Unlike some of the other segments, their interests are quite broad, spanning society, entertainment, pets, music, and sports; plus they're more likely to be single and childfree, meaning 💸 disposable income 💸 if you're lucky
Top media sites are broad with Netflix, E! News, BBC News, National Geographic and Disney all appearing as top brands, alongside the Marvel Cinematic Universe and The Economist
This audience are 15x more likely to be using TikTok, 14x more likely to be on Spotify, and 12x more likely to be spending time on Reddit, providing a variety of ways for savvy marketers to reach them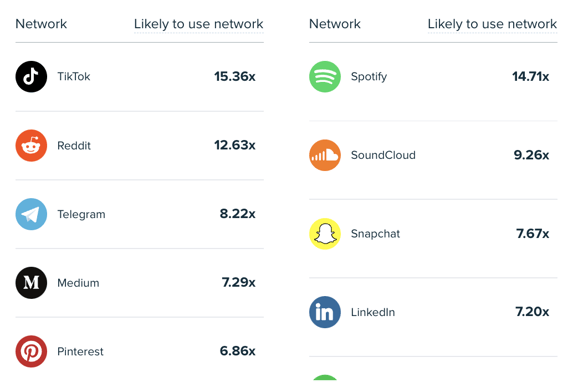 K-POP stans 🎤🎵
Our report initially provided auto-generated segment names, taking distinctive keywords in the bios of the audience's social profiles. Three names emerged: Jisoo, Lisa, and Jennie. Members of BLACKPINK, showing that K-pop stans are a major part of the conversation!
This audience segment skews younger, but they still have major purchasing power, with 40% of the audience being in the 25-34 age bracket
While largely based in Asia, a significant chunk is also based in the US, proving that Fashion Week can spark global conversation
Perhaps unsurprisingly, top influencers for this segment include the BLACKPINKOFFICIAL social accounts, alongside a wide variety of official, and unofficial, fan pages
Media they're consuming includes Netflix, MTV, CNN Philippines and the billboard charts, but they're also reading cosmokorea, Marie Claire Korea, and VOGUE Korea and Japan
In terms of where they're spending time online, they've 1.5x more likely to use Spotify than your average person, and they also over index for YouTube, Instagram, TikTok and Weibo (China's leading social network)
Thai K-POP influencers 🇹🇭
Another significant segment surfaced based on the keywords 'got, forever'; 35% of the audience profiles in this segment included 'got' and 10% 'got forever', which perfectly explains why Got7 - a South Korean boy band - and its members appear in the top influencers for this segment,
77% of the audience are based in Thailand, with nearly 50% based in the capital Bangkok, proving that K-pop stands are taking over the world! This segment also has a significantly higher proportion of both Thai and Korean speakers, compared to the rest of the audiences
Even more interesting, this audience largely consists of people aged 13 to 17, closely followed by 18 to 24, showing that consists of some of the youngest people in the fashion audience
Looking to media consumption, several music and K-pop TV channels appear prominently, alongside Kstyle, Billboard Thailand, GQ Thailand, and Allure Korea
This audience is highly engaged in hashtags related to Got7, and they're 2.62x times more likely to use Weibo to chat with friends, alongside Instagram, Twitter and Soundcloud; plus, over 90% of them are using their mobile phones to chat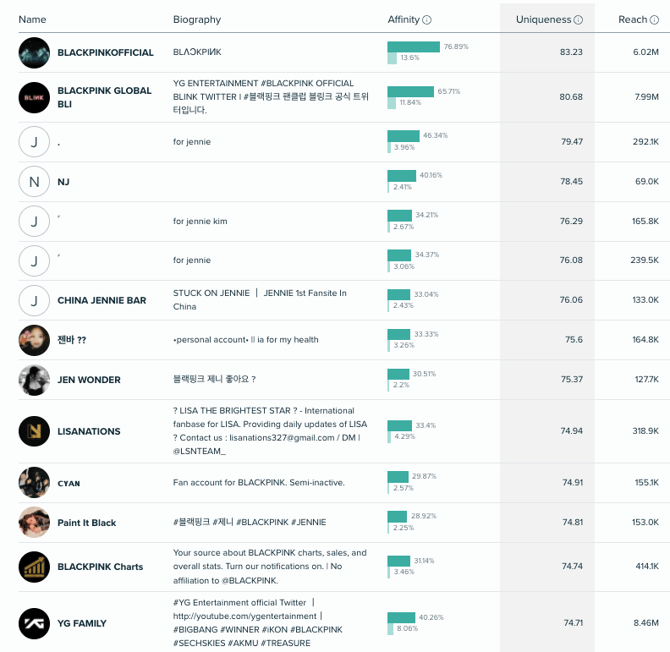 What tips can you take from Fashion Week 2022?
Clearly, there's a whole lot of potential for savvy fashion brands to bring in new generations of customers. Here's how some of the best fashion brands stole the show at Fashion Week.
Understand who is genuinely influencing your audience
Good marketers select influencers with decent followings and aesthetically pleasing photos on their feed. Great marketers understand who is genuinely influencing their audience, vanity metrics aside. The fashion industry has been at the forefront of social media, quickly adapting to the changing landscape. No longer dominated by industry experts and giants of the industry declaring whether florals really are for spring, fashion brands pay attention to what real customers are doing online.
This year's Fashion Week proves that fashion brands are well aware of the K-POP stan potential. BLACKPINK'S Jennie was snapped up as a CHANEL ambassador and Jisoo's presence at the Dior show in Paris helped generate over $10.9 million in earned media - up 55% on last year!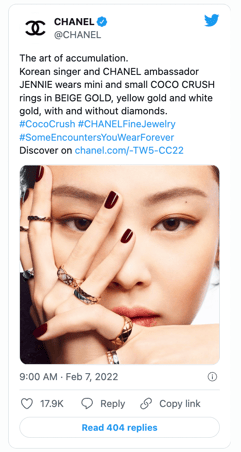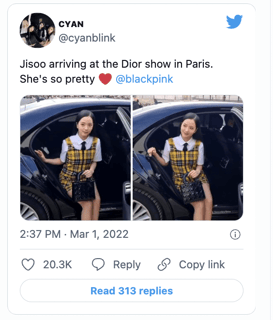 LISA has also been hard at work during Fashion Week as a global ambassador for CELINE, a French luxury goods brand. When spotted out and about in Paris with their new Matelassé Monochrome handbag, fans rushed to purchase, leading to a 5-month waiting list. That is some major ROI.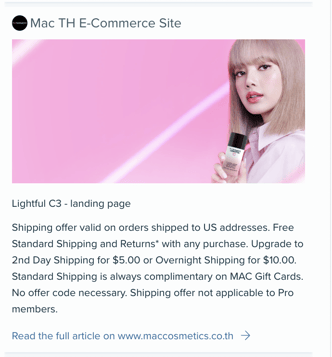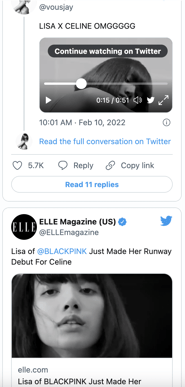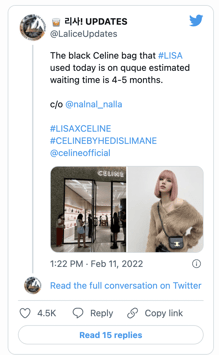 For our emerging Got7 audience, the boy band are busy making waves in both the fashion and the acting world. Esquire partnered with BAMBAM to create a fashion film and Mark Tuan recently partnered with Yves Saint Laurent. While this audience may be young, there's an opportunity to create customers for life here, using the right influencers.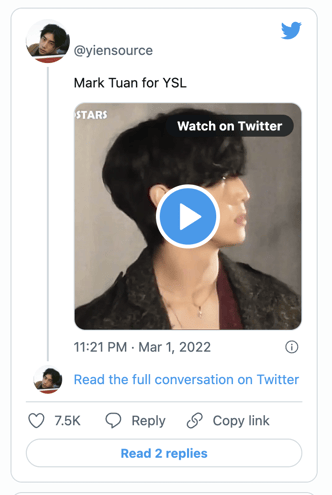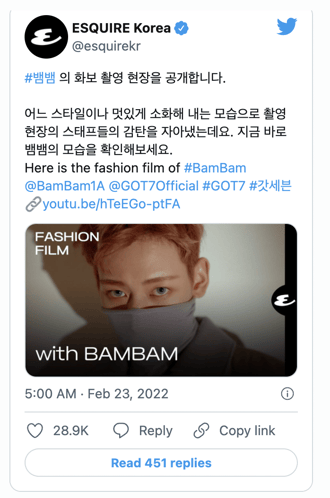 Bringing style to the TikTok masses
TikTok ranked highly across all of our audience segments as a highly engaged platform. With so many fashion brands setting up accounts across Pinterest, Instagram and even Snapchat in their heyday, it's no surprise to see luxury brands flocking to TikTok to keep tapping into that younger audience.
An example of this comes from Charli D'Amelio - who has nearly 140 million followers - who was invited to Prada's A/W 2020 show in Milan and became the first TikTok influencer to grace the front row of Fashion Week. Her presence brought a brand-new audience to the prestigious Italian brand, positioning Prada as the must-have brand for Gen Z. In 2022, Charlie returned with an exclusive photo diary to witness supermodel and Euphoria superstar Hunter Schafer close the catwalk.
TikTokkers have also made their way to the catwalk, with fashion icon Wisdom Kaye repping Valentino in Rome recently, as well attending the Ralph Lauren Christmas party and walking for Balmain last year.


It's also been notable for driving trends, with styles such as balletcore, royal core, regencycore, soft grunge, twee, and egirls/eboys all featuring. TikTok couture, the amalgamation of these different types of fashion expression and creativity, is bound to influence the upcoming fashion lines. Certainly, Y2K and 2014 Tumblr is making a comeback this year, god help us all.


This shift to TikTok is not just a phase. According to Vogue, "Gen Z is currently the generation most interested in shopping, but they're careful about how they spend their money." As the newest additions to the workforce and with growing purchasing power, it's more important than ever to reach them in the right place, at the right time, with the right influencer. Influencer marketing is so much more than persuading people to promote your product. It's about building relationships with people that your ideal audience are most likely to relate to, engage with, and most of all, that align with your brand.
Create a front-row experience on the right platforms
It's undeniable that the front row of the traditional fashion show has received a makeover, but what if the venue changed altogether? Fashion Week didn't just take place in New York, London, Milan and Paris this year… it also took place in the Metaverse.
Wait, what? That's right, the Metaverse, that thing nobody is quite sure what to do with. Naturally, fashion got there first. This year, fashion made the catwalk globally accessible, with a four-day event in Decentraland, described as a virtual destination for digital assets.
Over 60 fashion brands showed their latest digital lines, including Selfridges, Estée Lauder, Tommy Hilfiger, and Dolce & Gabbana. Viewers were able to buy NFTs of the fashion brands involved, alongside exclusive digital events and VIP meet-and-greets with the designers.
As the only beauty brand at MVFW, Estée Lauder got creative. They partnered with metaverse artist Alex Box to create an original NFT inspired by their landmark serum, Advanced Night Repair. A limited quantity of NFTs were available for the full week, and lucky buyers were able to enjoy a special glowing aura for their avatars. Cute, right?
Alongside this, Dolce & Gabbana hosted their first ever runway show in the Metaverse, with a quirky runway using feline models to showcase unique clothing, including an iconic branded yellow dress. They wrapped up the event with a special DJ set from Grimes, singer-songwriter, who merged nature with outer space. Very on-brand.
How could fashion brands take it one step further?
A whistlestop tour of A/W 2022 Fashion Week clearly proves that fashion brands are making huge strides in the world of social media and audience intelligence. But how could they take it one step further?
Be prepared to change fashion for the better: Exclusivity is no longer the name of the game. MVFW proves that brands are thinking more accessible and sustainably with their lines, and given fast fashion is responsible for approximately 92 million tonnes of waste per year, it's time to think bigger. Paying attention to the social conversation and making changes to appeal to the eco-conscious Gen Z audience could lead to long-term benefits for luxury brands… even if it's just ensuring we can live on our planet.
Embrace the global appeal: Thinking outside the box with global influencers is key to breaking into new markets and growing share. We've seen that the audience potential is huge, it's time for brands to spend more time assessing where exactly their audiences are and who they're genuinely influenced by. Fashion brands are in a unique position to increase their cultural relevance by becoming more community focused.
Rethink the catwalk experience for your audience: If the Metaverse feels too abstract, pay attention to the places your audiences are spending time. For example, Burberry partnered with Twitch in 2020 to livestream its London Fashion Week show, breaking down the borders of the host city and tapping into new potential audiences. This is revolutionary for brands building their market share or smaller labels who don't have the resources to invest in huge Fashion Week shows, consider Weibo or TikTok as new places to reach consumers.
Use trends and conversation insights to inform campaigns: Don't worry, we're not expecting you to go full Emily in Paris for your next marketing campaign but thinking outside the box using audience intelligence is a good first step. Understand what matters most to your ideal audience and pay attention to trends and conversations, this can help you identify relevant influencers. For example, Fenty focused entirely on inclusivity, collaborating with a diverse range of influencers to cultivate a diverse audience. Rihanna never misses.
If you want to uncover opportunities to work with influencers and reach new audiences, the data is out there. It's just a matter of taking a deep dive. With tools like Audiense, conducting in-depth analysis and discovering actionable takeaways is possible for brands that want to approach their marketing strategy with confidence.
You have successfully been subscribed!
Get the best content from Converge direct to your inbox every month.